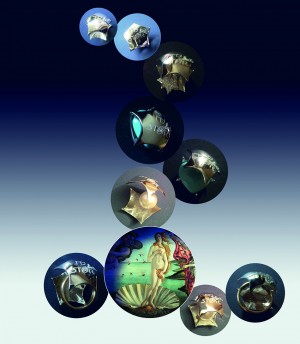 Unusual. This is MY STAR.
It don't like definitions and common rules. You don't have to expect collections which follow the fashion rhythmes: MY STAR has its own rhythmes, its own style, recognizable; it don't follow fashion, maybe is ahead, inspire it, but goes in a different direction, which is not of an aesthetical ideal which changes with the seasons, but, on the contrary, is made to remain in time. Above all, it is not only aesthetic, but mainly meaning and symbolism. More than to the world of Fashion, it is closer to the world of Art. "MY STAR" style is iconic, focused on its special star,which is recognizable and patented, and on its trademark name, which is associated to a positive meaning: "My Star is Love", the true Love, "True Love to wear".
"MY STAR" products reflect the style and the thought of their creatress Graziella Paletta.
MY STAR style is a philosophy of life; who choose it is a person who agree with its meanings, is not conditionable and likes to express herself/himself in a personal way; a person who knows to be special and precious, who has positive moral values and transmit it to the other people.
MY STAR style is for foreveryoung people, because the true age is the age of the mind and of the heart.